I was 1-2 on the day, but it was quite an entertaining day. This weekend was the best I have had in a long time and the WNBA is the reason. We are about to be in for some major competition and I am excited to be here for it.
For the first time in 15 years the Minnesota Lynx did not have Lindsay Whalen, Maya Moore, Seimone Augustus or Rebekkah Brunson on their roster. It did not matter because they still have big Syl and even with a new look around her she did her thing!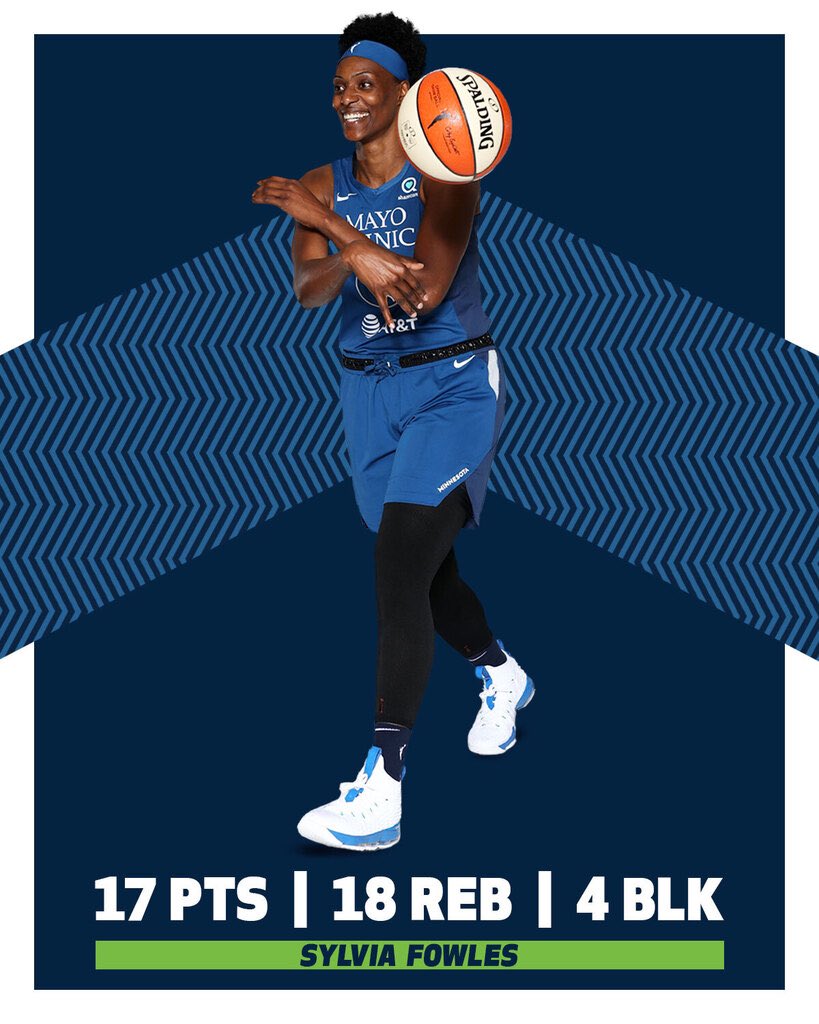 17 points and 18 rebounds for @SylviaFowles also gives her 23 career 15/15 games, breaking her tie with Lisa Leslie and putting her just 1 behind Tina Charles (24).

She is now 6 rebounds behind Brunson, the all-time leading rebounder (3,356). https://t.co/NraNgkXEXZ

— Across the Timeline (@WBBTimeline) July 26, 2020
Probability is very high that she will be breaking that all-time leading rebounder record in their next game, but it will not come easy against Natasha Howard and Seattle. This game was interesting to watch and I thought the Sun had it in the bag, but those dang huskies do it again. Napheesa Collier scored 9 of her 11 points in the fourth quarter and Crystal Dangerfield provided a momentum shift defensively that the Sun could not come back from.
Alyssa Thomas looked awesome leading all scorers with 20 points and DeWanna Bonner looked good in her new orange following up with 19. Jonquel Jones is missed, but I am pretty sure 1-10 shooting from Jasmine Thomas will be rare.
I knew that the Sky/Aces game was going to be a show, but I did not think that it would make me nervous. I honestly felt like the Sky were going to come out and just stomp the Aces because of what happened last season. A'ja Wilson, Angel McCoughtry and Dearica Hamby were not going to just roll over and let that happen. McCoughtry looked great in her debut with Las Vegas putting up 25 points leading all scorers. Things were almost automatic for Wilson as she followed up with 22 points and 11 boards.
The Sky had limited minutes from Diamond DeShields due to some inflammation in her knee. Vegas kept the Vanderquigs quiet, but it was Allie's three that sealed the deal.
THE GAME WINNING 3@alliequigley pic.twitter.com/8ihMRmenNu

— Chicago Sky (@chicagosky) July 26, 2020
I bet you were not expecting to see the Sky led by Kaleah Copper and Gabby Williams and get the W.
Williams put up 14 points and pulled down seven boards. Azurá Stevens looked good in her new blue adding 12 points.
This game was a sight to see and it looked like the Aces had this game in the bag until the very end. It came down to the wire once again except the Sky were able to secure the victory. The second mathcup between this team will be major. I am thankful for this rivalry.
To close out the weekend we had the highest scoring matchup with the Dream closing out my Wings 105-95. Atlanta had a huge game from Monique Billings who drop 30 points and pulled down 11 boards. All five of the Dream starters finished in double digits. They did all of this while having to rely heavily on that starting five.After this weekend Chennedy Carter is leading the rookie of the year talk. She is going to be dangerous and I am sure will be fun to watch when it is not against my team. Shekinna Stricklen looked good in her debut she took nothing but threes and she went 4-7.
Dallas had no answer for Billings and had a lot of miscommunication on defense. I am not taking this L to heart considering we put up these numbers while Agler basically just let the team play. I love that Dallas is able to spread the floor, we just have to be able to make stops. Things are only going to get tougher, but we are only going to get stronger as we figure things out.
I am 4-6 on the season. What I am loving so far is that we will get to see talent from a lot of different players and these rookies are going to grow up fast before our eyes with the experience many of them are getting. It was an amazing weekend and I am looking forward to the action resuming on Tuesday, which will also be my birthday!!
What did you think of 2020 WNBA Opening Weekend?! Let me hear it on the Twitter!